Information
from The Asahi shimbun WEEKEND friday , april 6 ,2001
by Mr. Steve FORD
Do as the Romans did : Eat couscous at Carthago
Move over Lawrence of Arabia, make way for Hiroshi " Kareem " Hatanaka ,
owner and chef of Carthago restaurant.
This Arabic/Turkish restaurant near Tokyo's JR Nakano Station is a
labor of love for a man enraptured with the culture and cuisine of the
southern and eastern mediterranean.
The name Carthago refers to the ancient city of Carthage , founded by the
Phoenicians in what is now Tunisia. It is the city from which Hannibal and
his elephants challenged the might of Rome. Hatanaka chose the monoker
because he feels it represents the contrast between East and West.
While Hannibal's Carthage was long ago turned into a parking lot for Roman
chariots, Hatanaka's Carthago is a thriving little establishment.
The restaurant seats 26 comfortably and its walls display North African
and Turkish ceramics, calligraphy and other atmospheric bric-a-bric. Passion-
filled pop music of the region plays low in the background, setting an oriental
vibe without overwhelming conversation. Hatanaka' s wife Mie and waiter Adel
Slama, a cogenial man from Tunisia, handle the dining room chores with aplomb.
One tasty pleasure of Arabic and Turkish food is its variety of cold appetizers,
called maza. This is where Hatanaka excels.
An order of four maza for 1,800 yen is a good start to the meal. The hummus,
a rich garlicky spread of pureed chick peas, is as good as it gets. I also tried
the haydari, a refreshing minty yoghurt dip. The baba ghanouj was a coarse
puree of smoky roasted eggplant, fragrant with extra virgin olive oil, and mech-
ouia a lively salad of roasted peppers anchovies and tomatoes rounded out my
order.
The warm pita bread that I slathered with these salads disappeared in a flash.
The wine list features wines from North Africa that you are not likely to see
anywhere else in Tokyo. There is also a self-service bar where you can taste
North African and Turkish wines for 300 yen (small) or 600 yen (large). It is a
good way to try surprisingly good (andmostly unknown) wines of the region.
I have to admit that I came to Carthago for the couscous, a pasta-like grain
dish made from semolina that is the base of many North African meals.
Steamed couscous is usually served with meats and vegetables. I had the
royale version ( 2,900yen). It was huge and contained a succulent lamb kebab,
lamb chop, carrots, turnips and - drum roll please-a homemade sausage called
mirguez.
The Carthago mirguez was filled with spicy lamb - the first of its like I had
seen in Japan.
A few day later, I stopped by for lunch (served Friday to Sunday). Lunch was
fast food: anchoring the menu were two nearly perfect sandwiches.
The first was a little pita number with a choice of roast chicken or falafel. I
chose the falafel, a picture-perfect rendition with a crisp cumin-and-garlic
chick pea croquette nestled in Arabic bread. Sesame tahini and plenty of chili
and salad added the finishing touches.
 Then I tried a fricaseed Tunisian sandwich. It consisted of a light, flaky roll
that was deep-fried and stuffed with tuna, hard-boiled egg, capers, chili sauce
and parsley. After a bite of this crisp delight, I wondered where this sandwich
had been all my life.
 when I asked for the check, a Tunusian customer I had chatted with refused
to let me pay, saying, "You are in Tunisia now." And so I was - for a moment-
until I walked out into a spring snowstorm.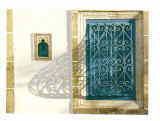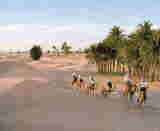 Southern Tunisia is the world of Star-wars
Carthago, 3-34-3 Nakano, Nakano
Ward,Tokyo,Call (03) 3384-9324 for
reservations(essential).
Closed Wednesdays.
Dinner: 18:00-23:00(Last order 22:30)